Attractions
Pinedale Aquatic Center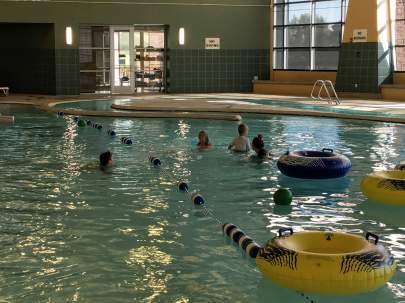 General Information
Allow Children? Yes children are allowed
Allow Smoking? We are sorry smoking is not allowed
Allow pets? We are sorry pets are not allowed
Is there Parking? Yes there is customer parking
Are there Handicap Facilities? We are sorry there are no handicap facilities
Enquire about this Attraction
307-367-2832
Name of Attraction = Pinedale Aquatic Center
Type of Attraction = Recreation
Directions =

Summary = The Pinedale Aquatic Center is a family friendly recreation center in Pinedale, Wyoming. With two pools, a climbing wall, hot tub, showers, and a full fitness center, we pride ourselves on offering premier recreation services for our community as well as those just passing through the area.
Location
Booking Information
Opening Time = 6:00a
Closing Time = 7:00p
Adult Price = $10.00
Children Price = $4.00
OAP Price =
Book Accommodation
Click on the button below to reserve your accommodation
Spent a week in Pinedale and loved the Cozy Cabins. Clean, comfortable and close to town as well as a park right next door. Took our morning coffee down to the Pine River every morning and even saw a young bull moose and several cows one morning!
Marais, May 2020