Attractions
The Den Restaurant & Bar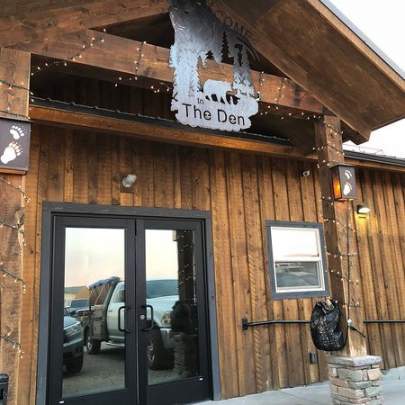 General Information
Allow Children? Yes children are allowed
Allow Smoking? We are sorry smoking is not allowed
Allow pets? We are sorry pets are not allowed
Is there Parking? Yes there is customer parking
Are there Handicap Facilities? We are sorry there are no handicap facilities
Enquire about this Attraction
(307) 859-8274
Name of Attraction = The Den Restaurant
Type of Attraction = Restaurant
Directions = 2 miles south of Pinedale in Daniel WY
Summary = Enjoy a delicious breakfast, lunch, dinner. There is something on the menu for everyone! Try their Prime rib on Friday and Saturday nights, steak and cheese sandwich and the ribeye!
Location
Booking Information
Opening Time = Mon-Fri: 11a, Sat/Sun: 10a
Closing Time = 9:00p
Adult Price =
Children Price =
OAP Price =
Book Accommodation
Click on the button below to reserve your accommodation
Spent a week in Pinedale and loved the Cozy Cabins. Clean, comfortable and close to town as well as a park right next door. Took our morning coffee down to the Pine River every morning and even saw a young bull moose and several cows one morning!
Marais, May 2020