Pinedale Cozy Cabins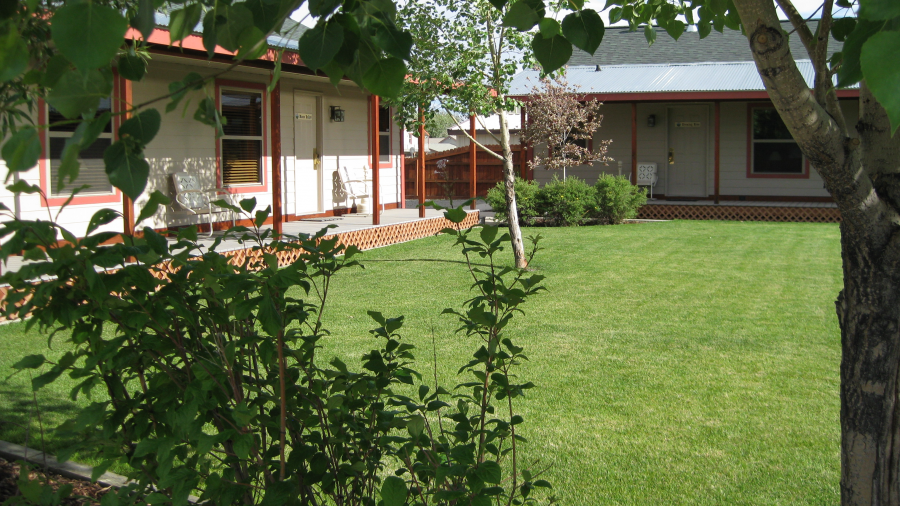 Description:
Choose between any of our six spacious two-bedroom cabins, with a comfortable living room and fully furnished kitchen. Enjoy the large outdoor grassy area with grilling facilities. You will enjoy our clean, well-equipped cabins and comfy beds.
Amenities
Living room
Heating
Iron board
Towels
Hair dryer
Linens
Dryer
Shampoo
Washer
Toiletries
Hangers
Grill
Private entrance
Smoke detector
Parking included
Sitting area
Garden
Entertainment
Food and drink
Dinner none
Breakfast none
Internet
Kitchen
Kitchen
Dishes utensils
Refrigerator
Toaster
Microwave
Dining area
Freezer
Oven
Coffee maker
Stove
Location
Pets
Services
Suitability
Smoking not allowed
Children welcome
Check-in start time:
16:00hrs
Check-in end time:
22:00hrs
Check-out by:
10:00hrs
Location info:
Pinedale Cozy Cabins are located half a block off of Pine Street, across from the American Legion Park in Downtown Pinedale. Pine Street is US 191 and is easily accessible from I-80 and US 189.
Location
General terms
Pinedale's Terms & Conditions

Some Important Information You'll Want to Know About Your Stay

CHECK-IN
Check-in begins at 4:00 PM. For an earlier check in, please text us your request. If we can accommodate you, we will. We release cabins as soon as they are cleaned and inspected.

CHECK-OUT
Check-out ends at 10:00 AM. Call us directly 307-367-3401 to see if we can accommodate a later check out time.

PET POLICY
Please call us directly 307-231-3271 to secure a pet friendly room prior to your arrival. You must book directly with us to bring your pet. Pinedale Cozy Cabins is a limited pet friendly property. A non-refundable pet fee is charged based on the size of the dog and length of stay. No exceptions. Again, We will NOT accept pets booked via Expedia or Booking.com or any other Online Travel Agency. Please plan accordingly to ensure we do have a pet friendly cabin available. This includes a service animal.

SMOKING POLICY
All cabins are Non-Smoking. Cigarette butt receptacles are provided on your porch. Please ensure all butts are properly disposed of within the provided receptacles. The cleaning fee for smoking in the cabin is $250.00. This includes every form of tobacco, marijuana and/or vaping. Your cabin door must be closed when smoking on your porch or the smoking cleaning fee will apply.

TAXES
Applicable state sales taxes, local tourism taxes, occupancy taxes, etc. will be applied, amounts subject to change without notice.

DAMAGES
All guests will be held 100% responsible for missing items and for any damages done to the property during their stay.

PAYMENT POLICY
A deposit of 50% is due at the time of reservation.. The balance is due upon arrival and may be paid by any major credit card or cash. We do not accept personal checks. For reservations made less than seven days prior to your arrival, the full amount is due and is non-refundable.
Rules
No smoking anywhere inside the cabins
No parties.
Quiet hours begin at 10:00p through 8:00a.
Cancellation
Pinedale Cozy Cabins Cancellation Policy:

A reservation is a contract. By giving us your credit card information, you agree to all of our policies. In return, we will hold your cabin(s) for you, for the night(s) confirmed. If for any reason we cannot honor your reservation, we agree to help you find alternate accommodations and refund you in full for your stay.

By submitting your reservation, it is understood that the information is correct and you agree to the terms as laid out in this document regarding services, number of days booked and the cancellation policy.

Cancellations or changes to direct reservations may be made by phone or email and must be made by the party who originally booked.
--For single night weekend (Friday, Saturday) reservations, your deposit is 100% and is NON-REFUNDABLE.
--For multiple night reservations, a deposit equal to 50% of your stay will be taken at the time of your booking.
--For bookings of three (3) or more cabins, the 50% deposit is NON-REFUNDABLE.

General Cancellation Policy:
Cancellations for direct bookings must be made up to 14 days prior to your arrival in order to have your deposit returned, less a $25 cancellation fee. A deposit of the first night's rent (including tax) or 50% of your total reservation (whichever is greater) will become non-refundable after this date (within two weeks of your reservation).

Cancellations made within seven (7) days of your arrival require full payment for all days and cabins reserved. Your balance will be charged to your card on this day.

If your reservation is made within this period, the full amount will be charged upon booking.

This policy also applies to a reduction of nights made within 14 days before your arrival, or a delayed arrival, either of which you will be charged in full.

If you have any question about which policy applies to your reservation, please email your questions.

Some Additional Information:
We are a small property and cancellations affect us severely. As long as we are open for business, and fully functioning, our policy is firm regardless of the reason for cancellation, delayed arrival, interrupted stay or early departure.

We cannot be responsible for unused rooms due to late or cancelled airline flights, family emergencies, health issues, threat of bad weather, any other travel-related mishaps or for any other change of plans on your part. We also cannot be responsible for any changes which shorten your stay.

Travel insurance is available from several providers online, and through some credit cards, to inexpensively protect you against covered unexpected events.