It all started with adding laundry centers to the cabins...
Share this page: Facebook LinkedIn Pinterest Twitter
It all started with adding laundry centers to the cabins...
Our cabins always received high marks and wonderful reviews, but let's face it, the furnishings were tired and I was itching to renovate the space. One theme from our guests was that our cabins would be perfect if only they had washing machines and dryers.
So, with that in mind, and my brain going in overdrive on all the upgrades I wanted to see in the cabins, we took a deep breath and a leap of faith. Even though we are in unprecedented times with rising construction costs and supply-chain shortages, we decided to go for it. We shut down for four months right after Christmas 2021, had a dumpster delivered and the demo began!
The result is a lot more grey hairs, a lighter pocket book, but my heart sings every time I step into our cabins. They are so serene and beautiful, I just want to linger. Every inch of the cabins have been renovated:
• new flooring
• new paint
• new furnishings
• new bedding
• new art
• new appliances
• new fixtures
• new Soundproof walls
And it all started with the idea of adding a laundry center so our guests could start a load of laundry, relax or go recreate instead of logging time at a laundromat.
The goal was to add a full size state of the art washing machine and dryer into our 600 square feet cabins. We stole space from the cool but mostly wasted 5 ft by 4 ft entry area. We built a wall that houses the LG Laundry Centers and added a utility entry closet with a landing space with hooks and a sweet little bench and voilà, we had our laundry facility and still had an entry area.
What do you think? Below are the before and after photos.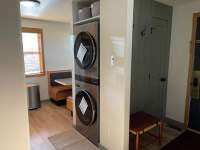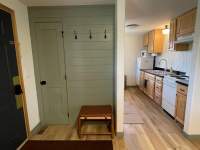 Gone are the oak yellow sheet vinyl flooring, replaced with a warm elm luxury vinyl plank floor. Gone is the gravity wall heater, replaced with forced air and central air-conditioning, oh my heart!!
Today I am meeting with our website developers to load more pictures to our website of our newly remodeled cabins. Until then, if you click around you will only see before pics.
You can book your newly renovated cabin RIGHT NOW.
Let me know what you think of our new entryway and laundry center. Just pop over to the CONTACT US tab and drop me a note. We'd love to hear from you!
Add comment